Description
Introducing the Maverick Recoil Suppression System
New from Area 419 is the Maverick. This is a reimagining of the muzzle device, meant to provide you the performance of a brake and the in-match comfort of a suppressor, as well as give you the option to train or hunt with the most versatile precision suppressor system on the market. The system uses the patented Hellfire Self-Timing technology, allowing the brake configuration to control the muzzle like nothing else on the market, and utilizes Hellfire and Sidewinder Universal Adapters with left-hand threads to ensure that the system will not loosen with use.
We think it will forever change the way you look at muzzle devices for precision rifles.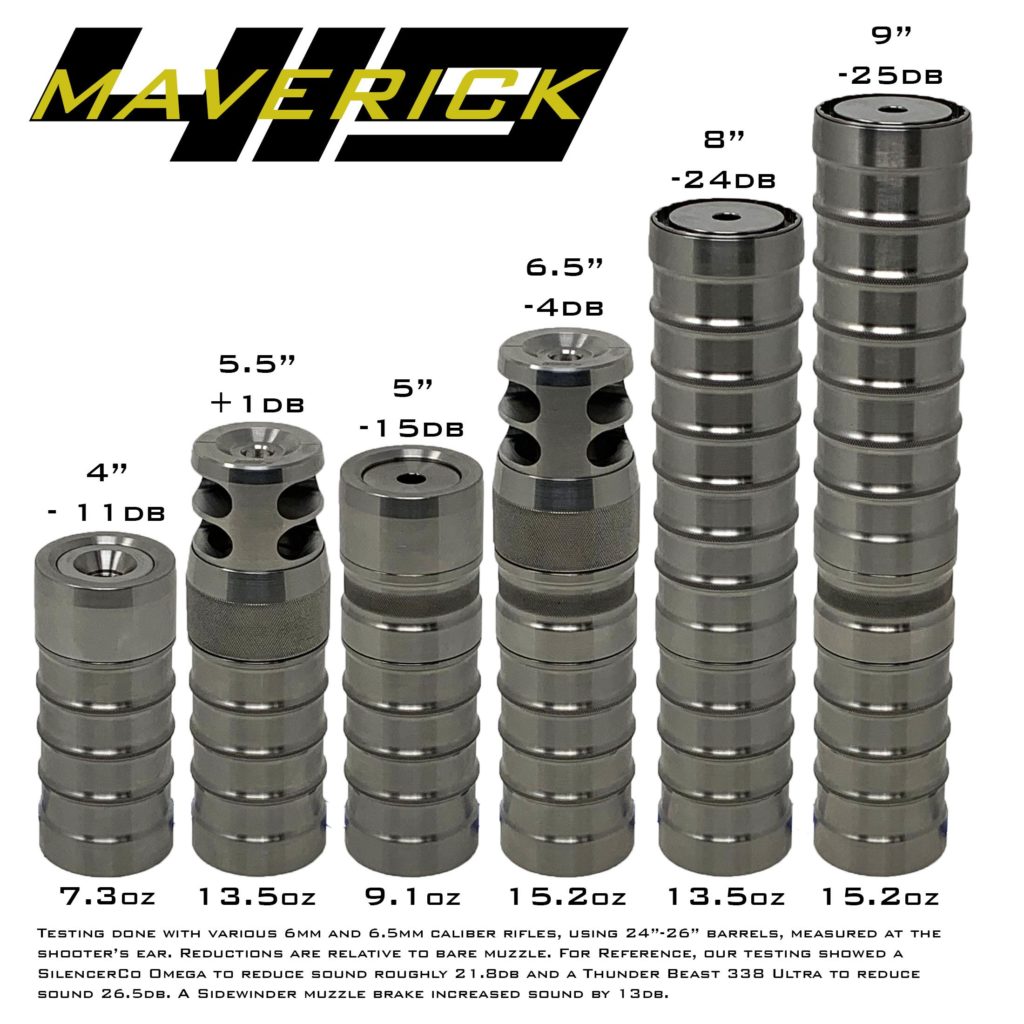 SPECIFICATIONS:
Total Length (Training Configuration) 9.2″
Total Length (Competition Configuration): 5.5" or 6.6″
Total Weight* (Either Configuration): 15.2oz in 9.2″ configuration
Diameter: 1.72"
Materials: Core – 6AL4V Titanium & 17-4SS, Brake – 17-4SS, Stage 1 & Stage 2 – 6AL4V Titanium (Grade 5), Thread/Taper Protector – 7075 Aluminum
Finish: High Performance Thin Film PVD, Smoke color Tubes and Brake (DLC), Gold Endcaps (TiN)
Construction: Weldless, Compression Taper Fit
Rating: Any Short Action Cartridge over 22″ of barrel length, 308-class to 20″, 223 class to 16″, Not full auto rated, this is a precision rifle suppressor.
WHAT'S IN THE BOX:
ALL UNITS
1 – Maverick Core (Hellfire Mount)
1 – Stage 2 Module (6.5mm)
1 – Maverick Brake
1 – Hellfire Universal Adapter in 5/8×24
1 – Wrench (not user serviceable, wrench is to aide in installation/removal should you desire)
9.2″ CONFIGURATION UNITS ONLY
1 – Stage 1 Module
1 – Thread and Taper Protector Ring
*Total weight is based on Sidewinder mount and does not include the Sidewinder Universal Adapter