Description
The new PRS-TCS was developed exclusively for precision rifle competitions. It was designed from the ground up with the ultimate goal of creating a fully weight-tunable stock to achieve the perfect balanced competition rifle while using a wide range of barreled action combinations. The PRS-TCS is loaded with standard out-of-the box-options not found on other stocks.
Standard configuration of the PRS-TCS with the supplied weights is 5 lb 9 oz. A weight of 8 lb 11 oz can be achieved with the optional steel rail and by adding additional weights. The action area of this stock is lowered so there is no need for a port or side bolt release cut to fit most actions. It is designed for all Remington-based right short actions only.
PRS-TCS Features
Full carbon fiber shell
MCS-DBM mini chassis
Weight-tunable 2 way butt
Weight Tunable Aluminum
Adjustable Cheek
True molded-in barrel channel, up- to a 1.25" straight
Ambidextrous thumb shelves
Low profile fore end
3 rear flush cups (left, right underneath)
1 front left flush cup
Weight Tunable Area 419/MCS Arca Rail System
Weight-tunable Area 419/MCS Arca rail system comes standard in aluminum with one 2.9 ounce weight. Rail is designed for weight to be moved front to back to achieve perfect balance. Optional steel version also available. Both rails will hold a maximum of five weights which allows for up to a total of 2lbs 2ounces to be added to the fore end of the stock depending on options.

Weight Tunable 2-Way Adjustable Butt System
Comes standard with 1 10-oz balance weight. The base system without the balance weight adds about 18 oz to the stock, depending on Length of Pull. Optional additional weights can be added for a max rear weight of about 2 lbs 12 ounces. To accommodate the extra stress put on the stock by the tunable weight system, the butt section of the stock is over-engineered with a full wrap-around shell.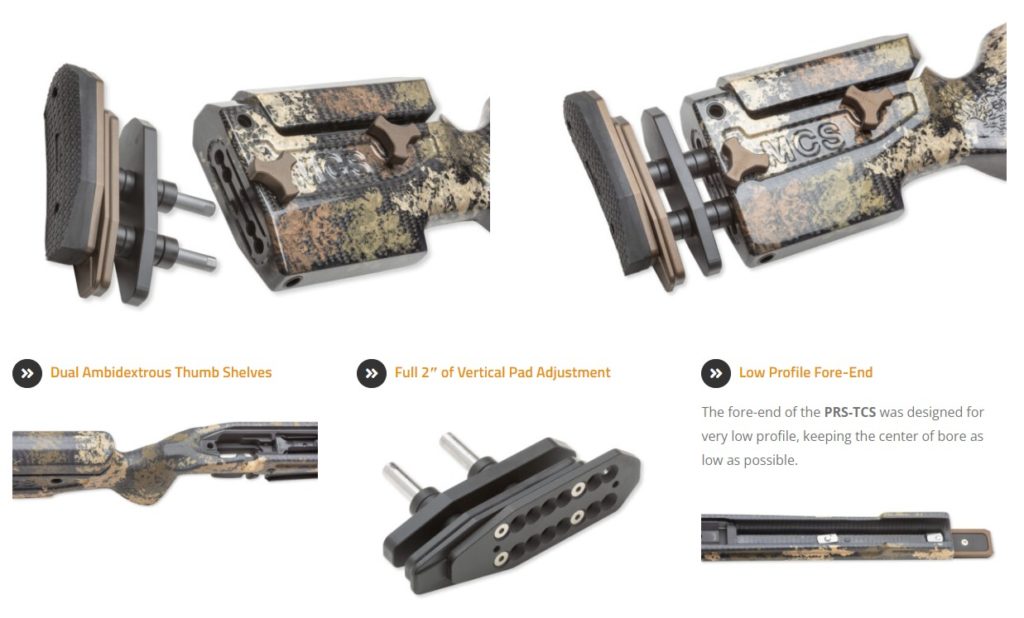 Additional information
| | |
| --- | --- |
| Weight | 5 lbs. |
| Shell | DOUBLE DEAD TCS SHELL |
| Action | REMINGTON 700/700 CLONE SHORT ACTION |
| Barrel Contour | PRS-TCS 1.35″ STRAIGHT BARREL CONTOUR |
| Hardware | PRS-TCS ALUMINUM ARCA RAIL (STD W/ 1 WT), PRS-TCS FLUSH CUPS 1 LEFT 1 RIGHT 1 BTM (REQUIRED) |
| Recoil Pad | PRS-TCS ADJUSTABLE BUTT SYSTEM (STD W/ 1 WT) |